Watch the concept video above
We have lifted sales in several countries since 2003
Among our international clients are:
Mercedes-Benz, Deloitte, Vodafone, Copenhagen Airports, EasyPark, PerkinElmer, Epinion.
Our goal is to develope long lasting positive changes in sales organisations where we do consulting, and also in the ones we partly own our self.
Positive changes to us means: Both better bottom line results, and also individual personal positive changes.
We also take over sales management for other companies for an agreed period.
No possibility of sound? Read the content of the video:
Hi, my name is Jens Poulsen. I'm running the sales training company Navitas, I've been doing so for the last 15 years, and I guess you're watching this video because you want some inspiration for your sales development. There is two concepts I've been working with over the last 15 years, which have given high top line results that I want to tell you about and perhaps you want to contact me and hook up and see if we can improve your performance in sales. The first concept is the one I've written a book about, it is called Feelings For Sale, this is the Danish version, there is an English version on the website and feel free to download it and have a look at it. It's basically about the inner game of sales, so how do you as a sales person handle rejection, handle things are dragging out, handle difficulties in the sales and how do you get over the barriers of phoning or closing or whatever? And it's also about handling the inner game of sales as a sales manager – how do you handle your sales people when they have too many excuses and you can see them do things that they shouldn't do and they should do sales instead. So the inner game of sales is the concept that I often speak about, and I've been doing it in most of the Nordic Countries and Egypt and elsewhere, and I would love to come to your place and have a chat about it as well. The other thing that I've been looking into over the years, and I would like to give an advice or two, is how to set up sales development projects with high effect. See the thing is, there is many different ways of doing this and our experience and how we got the best results was when we did a lot of investigation before we started, and most of all we really motivated the people who were going on the training to learn more before we started, then we did proper good training as always, and then we had a really good plan with you guys about how to implement it and follow up, and we have a whole structure of how to do that. So if you're doing a sales development project for the first time please contact me, because I have some need to do and not to does I want to give you, and if you've done it before and just want to improve the way you're doing it please contact me. I will help you if it's another company that you want to train and I will of course help you if you want me to train. So these are the things we are experts in. Please give us a call. See you out there. Cheers.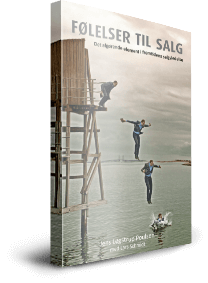 Sign up to my newsletter, and get the whitepaper 'Feelings for sales'
15 years of consulting in and around sales
LEARNING FROM 15 YEARS OF CONSULTING IN AND ARROUND SALES
The 'Feelings for sales' whitepaper is the short version of the book 'Feelings for sales' published in 2014
The concept 'Feelings for sales' gives you a deeper understanding of the inner game of sales, and how to work with your own or your employees personal barriers in sales.
It explains the difference between people who have a lot of mental and emotional barriers to fight, when they want (or are asked) to sell, and the people who year after year, enjoy the game of sales, get energy from selling and plays around with this ancient artform.
It also gives you new ideas on how to tackle, the unlogic problems you will meet in sales, and sales leadership in your career.
The newsletter is published quarterly